Thea was a second generation member of net idol group Platinum Happy.
She announced her graduation on June 7th 2017, although still participated in the following release.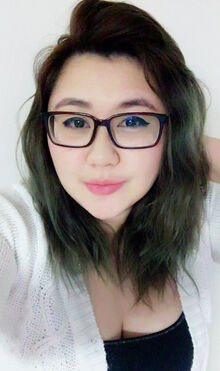 About Thea
[
]
Name: Thea
Image Color: Light purple
Voice Range: Soprano
Birthday: November 21
Interests: Singing, dancing, fashion, art, writing lyrics, audio engineering, cute animals, cute/pretty things in general, make-up, penguins 
Strengths: Optimistic, hardworking, always striving to do my best and support the people I care about, as far as singing goes, my strengths include emotional singing and belting high notes~ 
Favorite Music or Groups: K-pop, J-pop, anime music, and acoustic pop/indie musi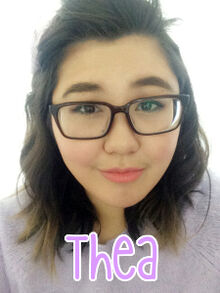 Personality, in a few words: Bubbly and optimistic, I like to make jokes and puns~
Catchphrase: "Tea is life, tea is love. Won't you join me for Thea time?"
Song Participation
[
]
-Holiday Release "Happy Halloween" (Singing Team)
-Second Cover Single "Platinum Ambition"
No Girls, No Fun
Jump up ~ Chiisana Yuuki ~
-Holiday Release "A Gift for You!":
Snow Flower
White Light
Angel Snow
-Third Mini-Album "PuraLOVE"
Elegant Girl
Purappi Oshi
-Fourth Mini-Album "Hot Chance"
Seisun Inazuma
Silly Boy
Romantic Now
deal
-Fifth Mini-Album "Glitter & Shine"
Platinum Disco
Saite Jewel
-Sixth Mini-Album "Shiroi Shining"(Graduated)
Chou Happy Song
Shiawae no Tochuu
Artwork
[
]
Puralove- Back cover
A Gift for You- Back cover
Platinum Ambition- Front and back
Happy Halloween- Cover
Trivia
[
]
Nicknamed Thenyan by the other members
Dyed her hair blond shortly after joining Purappi.
Did the mixing for "Platinum de Somete" despite not being in the track.
She would like Purappi to cover "Very Beauty" by Berryz or "Namida no Iro" by C-ute