Tabitha is a second generation member of the net idol group Platinum Happy.
About Tabitha
Edit
Name: Tabitha
Image Color: Periwinkle
Voice Range: Mezzo-soprano
Birthday: December 10
Interests:
 J-idols/J-pop, dancing (classical and contemporary ballet, jazz, modern, hip-hop, musical theater), musical instruments, singing, crafting, cosplay, fashion, anime, manga, art, manatees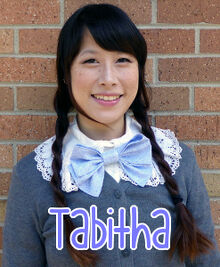 Strengths:
 Singing mid-tempo songs, ethereal vocal quality
Favorite Music or Groups: J-pop, anime music, AKB48, no3b, Arashi, AAA, Silent Siren, Tommy February/Heavenly, Makino Yui, Kalafina, Houkago Tea Time, µ's
Personality, in a few words: Socially awkward penguin with a soft, cuddly heart
Catchphrase: "Yksi, kaksi, kolme, BIBI-beat!!! Platinum Happy's Tabitha is here to brighten your day with the magic of music."
Song Participation
Edit
-Holiday Release "Happy Halloween" (Dance Team)
-Second Cover Single "Platinum Ambition"
No Girls, No Fun
Jump up ~ Chiisana Yuuki ~
-Holiday Release "A Gift for You!":
-Third Mini-Album "PuraLOVE"
Youseitachi no Symphony
Purappi Oshi
-Fourth Mini-Album "Hot Chance"
Seisun Inazuma
Silly Boy
Romantic Now
deal
-Fifth Mini-Album "Glitter & Shine"
Platinum Disco
Saite Jewel
-Sixth Mini-Album "Shiroi Shining"
Chou Happy Song
Shiawase no Tochuu
Puralove- Promotional artwork
A Gift for You- Cover
Nicknamed Tabby, Biichan, and Bibitan by the other members.
The first part of her catchphrase is her counting in Finnish.
Dances ballet, which she's done since she was a child.
While she was born and currently lives in the US, she lived in Japan briefly as a child and went to kindergarten and part of first grade.
The song she wants Platinum Happy to cover is AAA's "MUSIC!!!"
Did not participate in the "Sweet Witches' Night" Halloween release.