Sophie is a third generation member from the net idol group Platinum Happy.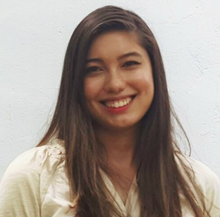 About Sophie
Edit
Name: Sophie 
Image Color: Blood orange 
Voice Range: Alto to mezzo-soprano 
Birthday: October 29 
Interests: Dancing, choreographing, eating 
Strengths: Soft but powerful singing 
Favorite Music or Groups: NMB48, Perfume, Dreamcatcher 
Personality, in a few words: Pretty strange but easy to get along with 
Catchphrase: "Hey, hey, who's your Purappi oshi? (Sophie!) Offering words of wisdom from this big heart, Platinum Happy's Sophie is here! よろしくお願いします!"
Prior to joining Platinum Happy, she participated in activities of the net idol group BETA under the stage name Kashima Rika.