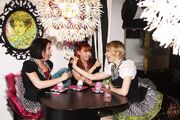 SHEawase (SHEあわせ) is an all-American Japanese pop girl unit.  Performing covers of many popular J-pop songs, they are known for their charming costumes and energetic live performances. Coming together in 2006 under the name Happy! Project, their aim is to become the first well-known Japanese pop group in America. Notably, in 2009 in Los Angeles they made Japanese press appearing in FLASH magazine in their special issue documenting J-pop super group Morning Musume's trip to Anime Expo. At the beginning of 2010, SHEawase headlined their own concert for the first time at Animeland Wasabi in Denver, Colorado. In 2012, they released their first original single "Mujuu Ryoku Boy, Ranhansha Girl". The girls signed with the Indie Label Prismic Records in 2014 and soon after released their second original single "Someday Far Away".  The group consists of Melissa, Tara, Morgan, and Max.
Name Change
Edit
In May 2012, Happy! Project officially changed their name to SHEawase.  As they were branching out from only doing dance covers to performing their own original songs, they felt that they needed to move away from the "idol like" name to one that would better represent the group as artists.  
"We chose the name SHEawase for several reasons. First, we wanted to keep a connection to how we began as Happy! Project, since Shiawase means Happiness in Japanese. Also, with the unique spelling, 'SHE' standing for girls, and 'Awase' meaning together, we felt this name encompassed everything about who we are."
Discography
Edit
Cover Art
Title
Release Date
Track Listing
Participating Members

Muju-Ryoku Boy, Ranhansha Girl!
September2012 

1.  Muju-Ryoku Boy Ranhansa Girl

2. Muju-Ryoku Boy Ranhansa Girl (Remix)

3. Muju-Ryoku Boy Ranhansa Girl (Instrumental)

Melissa Shows

Kristy Valdez

Tara Muchmore

Morgan Davis

Someday Far Away
June 2014

1. Someday Far Away

2. Someday Far Away (English Ver)

3. Someday Far Away (Nice and Easy Mix)

4. Someday Far Away (Instrumental)

Melissa Shows

Tara Muchmore

Morgan Davis

Tea with Me
TBA

TBA

Melissa Shows

Tara Muchmore

Max Ortner