Nina is a third generation member from the net idol group Platinum Happy.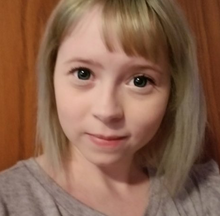 About Nina
Edit
Name: Nina 
Image Color: Amethyst purple 
Voice Range: Soprano 
Birthday: December 17 
Interests: Singing, manga, art, fashion, makeup 
Strengths: Friendliness, being a good listener 
Favorite Music or Groups: 48 Groups, Keyakizaka46, Sakura Gakuin, PASSPO, The World Standard, Oh My Girl, Twice 
Personality, in a few words: Excitable, friendly, helpful, and always joking around 
Catchphrase: "Let's all gather for the Nina Show! I'm Platinum Happy's Ni-Ni-Nina!"