Mia is a second generation member of net idol group Platinum Happy.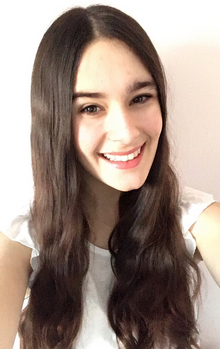 About Mia
Edit
Name: Mia
Image Color: Turquoise
Voice Range: Mezzo-soprano
Birthday: May 18
Interests: Singing, dancing, writing, anime, playing video games
Strengths: Dancing, singing, and being optimistic!
Favorite Music or Groups: Video game soundtracks, AKB48, µ's
Personality, in a few words: Happy, friendly, and full of energy
Catchphrase: 
"Short and sweet, Mia, that's me! I'm Platinum Happy's Second Generation member, Mia!"
Song Participation
Edit
-Holiday Release "Happy Halloween" (Dance Team)
-Second Cover Single "Platinum Ambition"
No Girls, No Fun
Jump up ~ Chiisana Yuuki ~
-Holiday Release "A Gift for You!"
-Third Mini-Album "PuraLOVE"
-Fourth Mini-Album "Hot Chance"
Seishun Inazuma
Silly Boy
deal
-Fifth Mini-Album "Glitter & Shine"
Platinum Disco
Diamond Happy
-Sixth Mini-Album "Shiroi Shining"
Chou Happy Song
Shiawase no Tochuu
-Holiday Release "Sweet Witches' Night ~Hachininme wa Daare~" (Dance Team)
Nicknamed Miiyan by the other members.
Considers Astrid to be like an older sister.
Mia, along with Daisy, is British, making her one of the few Platinum Happy members to be located outside of the US.
The song she would most like Platinum Happy to cover is "Nagisa no Cherry" by AKB48.
With the addition of generation two, Mia is currently the youngest member of Platinum Happy.
It's joked that she's Calla's "son" due to their similar tastes in puns.
Acted as MC for one of the second anniversary livestreams.