Maple is a first generation member from a net-idol group, Platinum Happy.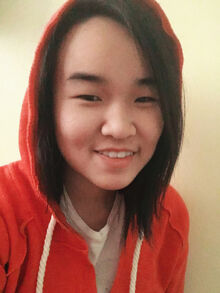 About Maple
[
]
Name: Maple
Image Color: Red
Voice Range: Mezzo-soprano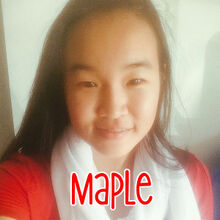 Birthday: July 31
Interests: Dance, Japanese language
Strengths: Dancing
Favorite Music or Groups: 48 Groups, Paramore, pop, R&B, rock
Personality, in a few words: Energetic, awkward, clumsy
Catchphrase: "Even though I'm short, my spirit will not change! I'm Platinum Happy's only maple leaf, Maple!"
Song Participation
[
]
-First Single "Make it Platinum!"
-Holiday Release "Noel no Yoru"
-Holiday Release "Oshogatsu"
-First Mini-Album "Happy Hearts"
Yarakai Heart
Love Like Candy Floss
-Second Mini-Album "Cherry Blossom Season"
Sakura Chirari
Sakura Kiss
-First Original Single "Platinumで染めて!/Paint it Platinum!"
Platinum

で染めて!

Paint it Platinum!
-Second Cover Single "Platinum Ambition"
Ambitious! Yashinteki de Ii Jan
Jump up ~ Chiisana Yuuki ~
-Third Mini-Album "PuraLOVE"
-Fourth Mini-Album "Hot Chance"
Seishun Inazuma
Silly Boy
deal
-Fifth Mini-Album "Glitter & Shine"
-Sixth Mini-Album "Shiroi Shining"
Chou Happy Song
Because Happiness
-Purasinging "White Angel" (Solo)
-Holiday Release "Sweet Witches' Night ~Hachininme wa Daare~" (Singing Team)
Trivia
[
]
Nicknamed "Meppo" by the other members.
The shortest member of Platinum Happy's first generation.
Makes up the unit "Golden Apple" with Eve.
She's close to Astrid, whom she considers like a younger sister.
Did not participate in the "Happy Halloween" or "A Gift for You!" holiday releases.
Member of the unofficial subunit "Team Nomimono" with Eve and Calla.