Mae was a first generation member of Aikan. She graduated from the group in February 2017.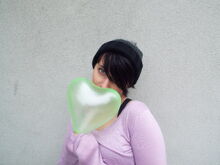 Information
Edit
Role: Member
Image Color: Lavender
Birthday: April 13th
Hobbies: Dancing, violin, and tumbling
Subunits: Unnamed trio with Sky and Quinn
Message: "Hey hey hey it's Mae!! I really love dancing, animals, and music! I love to draw also but I'm terrible at it!"
Song Participation
Edit
Kamisama no Birthday
-Mae cosplays Umi Sonoda, Kotori Minami, and Eli Ayase from Love Live! These sometimes appear in the group's cosplay videos.