Lucy was a second generation member of net idol group Platinum Happy.
On October 16th 2016, she went on indefinite hiatus from the group and then graduated on February 17th, 2017.
About Lucy
Edit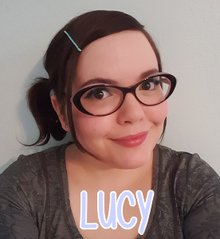 Name: 
Lucy
Image Color: Powder blue
Voice Range: Alto 
Birthday: November 1 
Interests: Idols, video games, science fiction TV/movies, general geekery 
Strengths: Love of idols, perseverance, dedication, sense of humor 
Favorite Music or Groups: Japanese idol music, AKB48, Hello! Project, babyraids, Momoiro Clover Z, Cupitron 
Personality, in a few words: Dandere, shy, but cheerful and happy when I open up 
Catchphrase: "Ladylike, lovely, Lucy! I'm Second Generation member Lucy!" 
Song Participation
Edit
-Holiday Release "Happy Halloween" (Singing Team)
-Second Cover Single "Platinum Ambition"
No Girls, No Fun
Jump up ~ Chiisana Yuuki ~
-Holiday Release "A Gift for You!"
-Third Mini-Album "PuraLOVE"
Elegant Girl
Purappi Oshi
Nicknamed Lulu or Lucchi by the other members.
She'd like Purappi to cover Babymetal or FruitPochette
Her Platinum Happy oshimen is Bonnie.
Was absent from the Glitter & Shine and Hot Chance releases, due to being on hiatus.