Lumina Scarlet known as LuSca now, is an idol group from Bandung, Indonesia. They acculturate Japan's Culture and Indonesian Culture.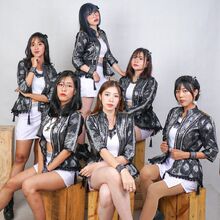 Sacchi Green Leader
Yollan Orange Sub-Leader
Kerryn Yellow
Sifa Light Blue
Mpiw Light Purple
Mega Light Red
For more information see: LuSca Members
2012-2014 Edit
The group was formed on January 8th, 2012 as a cover idol group. The original members: Nime, Nao, Yuuchan, and Mui started out performing cover songs of idol groups like Morning Musume, Momoiro Clover Z and AKB48. After their first live performance in early 2012, the excitement and passionate cheering of the crowd inspired them to one-day debut in Japan. Soon, however, Mui decided to graduate and was replaced by a new member, named Mayu. After another member, Utat had joined the group, it was Mayu's turn to graduate. Despite this, the four girls continued performing at different Japanese inspired events.
In 2013, Lumina Scarlet introduced its trainee programme
"Lumina Scarlet Kouhai" and two new girls, Aiko and Sacchi became the first trainee members in the group's history. Aiko left pretty soon after this, but Sacchi and the four full-time members still kept performing.
On October 26th, 2014, Lumina Scarlet became one step closer to their dream by releasing their first indie single "Scarlet Melody". During this time Sacchi also became a full-time member. At the very end of the year, five new kouhai members: Aninditya, Kiky, Amelia, Sofie, and Dinda joined the group.
2016-2018 Edit
In May 2016, Lumina Scarlet made their dream come true by performing in Asia Music Festival in Hamamatsu, Japan. Dinda and Sofie were promoted on June 15th, 2016. following three new kouhai members : Yollan, Kerryn, Dyta. Soon after that, Aninditya, Kiky and Amel resigned from Kouhai.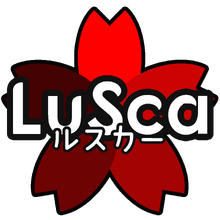 In 2017, there were a lot of line up changes in the group. Sub leader Nao graduated on March 26th, 2017. About a month later, Lumina Scarlet released it's second indie single titled "Kisah Kreasi". Though Nao's image wasn't on the cover of the cd, her voice was was still used in the songs. In May Utat graduated and and two months later, so did Sofie. After Sofies graduation Yollan, Kerryn and Dyta were promoted to full-time members. In August Dinda graduated from Lumina Scarlet to continue her education outside Bandung. All in all this left Lumina Scarlet with six full-time members: Nime, Yuuchan, Sacchi, Yollan, Kerryn and Dyta. Soon after the group also held auditions for new kouhai members.
In January 2018, Lumina Scarlet changed It's name to LuSca. Nime graduated from LuSca in August 2018, leaving LuSca with five members remaining. In September 2018, LuSca joined new management called "1nfinite Entertainment" along with another group.
On February 14th 2019, LuSca relased their third indies single "Kamu atau Dia" as well as a music video for the song to their YouTube channel. Following the release of their new single, the group also created a spotify account.
On August 18th 2019, Yuuchan graduated, making her the last original member to leave the group. One day later, kouhais Sifa, Mpiw and Mega were promoted to full-time members and Sacchi was announced as the new leader. Soon after, Yollan was also announced as the new sub leader of the group.
On August 30th. LuSca announced their 5th Gen, including Niki as the Leader of Kouhai. The 5th Kouhai members are Aya, Fui, Ellen, Vivi and Pio-Pio.
Dyta graduated from LuSca on February 29th, 2020. This left the group with the members Sacchi (leader), Yollan (Sub-Leader), Kerryn, Sifa, Mpiw, and Mega.
Since the lock down due to the Coronavirus the members and trainees have been releasing at home versions of covers and original songs.
Discography
Edit
Scarlet Melody - Lumina Scarlet's first single, released October 26, 2014
As of July 2020 this video has over 40,000 views.
Semua Hanya Untukmu - A coupling to their first single, Scarlet Melody, Lumina Scarlet dedicates this song to everyone who's supported them through-out the years.
As of July 2020 this video has over 18,000 view.
Kisah Kreasi -The first song to feature members Dinda and Sofie. The lyric video was released February 14th, 2017.
As of July 2020 this video has over 3,000 views.
Kamu Atau Dia- is the first song to feature Dyta, Yollan, and Kerryn.
As of July 2020 this video has over 8,000 views.
Community content is available under
CC-BY-SA
unless otherwise noted.