FLIGHT (Stylized as "FL!GHT") is a net-idol group founded by the manager, Anthony, and the leader, Konori. It currently consist of three members in total, and has a theme based on flying towards your dreams and growing as an artist. Formerly it had a flight attendant theme to it. It debuted on May 8th 2016.
2016
FL!GHT was an idea that was conceived around a month after Shining Royalty's disbandment. Though the manager had no name for the group, it was a lot more planned out and was set to have releases themed around the country the idols would be "visiting." But seeing as it had the same flight attendant-theme as popular group PASSPO, it was put aside.
Crystallize! was formed in its place; a gem theme to it, but with a lot of conflicting thoughts. Talking to his friends, Konori and Cami, it was decided the gem theme would be scrapped and the name was decided by Cami.
With a name, FL!GHT was designed, system, singles, and everything else to go with it. The theme elaborated on more, and members gathered. Originally, it was intended for Anthony to be Captain but he quickly swapped places with Konori, and became Co-Captain. In addition the other members were privately scouted to be added to the group.
On the 8th of May, it was announced that FLIGHT released their first single named START:DASH!! (Originally by Muse of Love Live School Idol Project.)
As of May 22nd, FL!GHT has two new members, Sora and Hikaru. Neither have debuted. Sora will appear in FL!GHT's next cover single, Mermaid festa vol.1.
The group was put underneath an unannounced hiatus until September 2nd due to undisclosed reasons, though it is now up and running once again. In its wake, Ayame has graduated due to personal reasons, Hikaru was withdrawn from the group due to inactivity within the group from the day she joined, and Tonkatsu continued as manager/promoter but has left as a vocalist.
As of October 19th, FL!GHT has changed its theme and has announced auditions starting soon.
2017
After a year of inactivity, FL!GHT will be rebooted with Kaoru, Konori, and Tonkatsu, and will be releasing a new single during the summer.
Kaoru (Sub Leader)
Tonkatsu (Manager)
Graduated Members
Edit
Ayame (9.2.16)
Hikaru (9.2.16)
Sora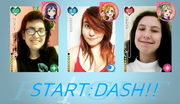 【Title】1st Single:
START:DASH!!
【Release Date】5.8.16
【Participating Members】Konori, Ayame, and Kaoru
【Center】Konori
Tracklist:
Mixing: Ayame
Video: Konori
Scripting: Konori
The first release of FL!GHT. This is meant to be the group's theme song and is a stand alone single. The overall theme of the release is meant to signify that the group is just beginning and that even though hardships may come.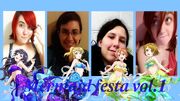 【Title】2nd Single:
【Release Date】
【Participating Members】
【Center】
Mixing:
Video:
Scripting: