Eve is a first generation member from a net-idol group, Platinum Happy.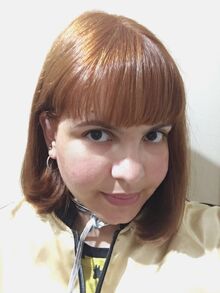 About Eve
Edit
Name: Eve
Image Color: Gold
Voice Range: Mezzo-soprano
Birthday: July 24
Interests:
Listening to music, art, translating
Strengths:
Patience, being reasonable
Favorite Music or Groups: Idoling!!!, BiSH, Gesu no Kiwami Otome, 48 Groups, Bellring Shoujo Heart, Kalafina, Sound Horizon
Personality, in a few words: Passionate and quiet
Catchphrase: "Hey, please look at the real me! I want to meet you! Platinum Happy's Eve!"
Song Participation
Edit
-First Single "Make it Platinum!"
-Holiday Release "Noel no Yoru"
-Holiday Release "Oshogatsu"
-First Mini-Album "Happy Hearts"
Yarakai Heart
Love Like Candy Floss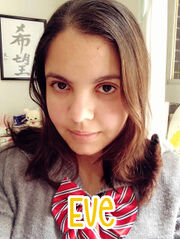 -Second Mini-Album "Cherry Blossom Season"
-First Original Single "Platinumで染めて!/Paint it Platinum!":
Platinum

で染めて!

Paint it Platinum!
-Holiday Release "Happy Halloween" (Singing Team)
-Second Cover Single "Platinum Ambition"
Ambitious! Yashinteki de Ii Jan
Jump up ~ Chiisana Yuuki ~
-Holiday Release "A Gift for You!":
-Third Mini-Album "PuraLOVE"
Elegant Girl
Purappi Oshi
-Purasinging "Dear Mr. Socrates" (Solo)
-Fourth Mini-Album "Hot Chance"
Seisun Inazuma
Silly Boy
Romantic Now
deal
-Fifth Mini-Album "Glitter & Shine"
Platinum Disco
Gomen ne Jewel
-Sixth Mini-Album "Shiroi Shining"
Chou Happy Song
Because Happiness
-Holiday Release "Sweet Witches' Night ~Hachininme wa Daare~" (Singing Team)
Cherry Blossom Season- Back
Happy Hearts- Front and back
Oshogatsu- Cover
Noel no Yoru- Cover
Make it Platinum- Back
Nicknamed "Iibuu" by the other members.
She is from Brazil, making her the only generation one member not from the U.S.
Makes up the unit "Golden Apple" with Maple.
Her catchphrase comes from the Idoling!!! song "Eve"
She is Calla's Purappi oshimen.

Eve, in return, has called Calla and also Maple her Purappi oshimen.

Participated in the "Make It!" dance cover as well as the "Chou Happy Song" pv.
Other than her official catchphrase, she also uses "Let's Evening" as a catchphrase to sign off in her blogs.
During one of the first anniversary streams, it was revealed that she wrote the lyrics to the group's first original single,

"Platinum

で染めて!/Paint it Platinum!" under the pseudonym "Palindrome"

It's worth noting that a palindrome is a word that can be spelled the same backwards or forwards, just like the word "eve."
Part of the unofficial subunit "Team Nomimono" With Calla and Maple.
Co-hosts PuraRadio along with Calla.
Eve and Calla have done the most artwork for Purappi.