Colorful Characters is a french netidol's group created in 2017. There is 19 members mostly from France and they cover songs from popular j-pop group : Morning Musume. based on members colors.
Story[]
Back in 2017, Limil created the group with the concept to base on Morning Musume.'s members colors. When the group first started it was planned to be a normal dubbing group only going to post their covers on YouTube but in summer 2017, one of the members, Michiko, showed their covers to their futur producer Yéti and from this moment, they decided to move to a real netidol group who would do live performances.
Performances[]
Since 2018, the group occasionaly perform at conventions. Some members : Madi, Maaya, Miyako and Maika don't live in France so, they can't really move to perform with the group.
They first live performance was at Japan Party (Paris Nanterre) in april 2018 where Limil, Mina, Momo, Michiko, Erika, Tato, Mima and Miki participated, they performed : Love Machine, Fantasy ga Hajimaru and HOW DO YOU LIKE JAPAN? ~Nihon wa Donna Kanji Dekka?~ (+ bonus song : Style of my love). 
After that, they performed at Animasia (Bordeaux) in october 2018. This time : Limil, Mina, Momo, Michiko, Mima, Erika, Miki, Anaa, Miuky, Mikaya and Haru participated and they performed a medley composed of : Love Machine, Souda! We're ALIVE, SEXY BOY ~Soyokaze ni Yorisotte~, Mikan, One.Two.Three and Utakata Saturday Night!.
At this day, they last performance was in june 2019 at Foire Internationale de Bordeaux (Bordeaux) where : Limil, Michiko, Momo, Anaa, Bunny, Miyako, Miuky, Erika, Mima, and Haru participated. They performed the same medley they did in Animasia + Help Me!! and Happy Summer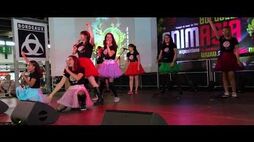 Wedding.
Members[]
| Name | Member Color | Gen + notes | Parts singed |
| --- | --- | --- | --- |
| Limil | Lavender | 1st (leader) | Oda Sakura, Mitsui Aika, Yaguchi Mari |
| Momo | Pink | 1st (sub-leader) | Michishige Sayumi (from 2006), Konno Asami, Makino Maria (from 2019) |
| Mina | Orange | 1st (sub-leader) | Kudo Haruka, Kamei Eri, Haga Akane (from 2019) |
| Michiko | Red | 1st (ace) | Kusumi Koharu (from 2007), Sayashi Riho, Abe Natsumi, Kaga Kaede |
| Bunny | Royal Blue | 1st (oldest member) | Ishida Ayumi, Ogawa Makoto, Junjun |
| Anaa | Green | 1st | Suzuki Kanon, Nakazawa Yuuko, Yamazaki Mei |
| Erika | Yellow | 1st (tallest member) | Iikubo Haruna (from 2012), Takahashi Ai, Okamura Homare |
| Mima | Dark Red | 1st | Ishiguro Aya, Fujimoto Miki |
| Haru | Light Orange | 1st (smallest member) | Haga Akane (2015-2019), Michishige Sayumi (2005-2006) |
| Bunny | Emerald Green | 1st (youngest member) | Sato Masaki, Linlin |
| Tato | Dark Purple | 1st | Tsuji Nozomi, Fukuda Asuka |
| Maaya | Hot Pink | 1st (Canadian member) | Fukumura Mizuki, Ishikawa Rika |
| Haru | Purple | 1st | Nonaka Miki, Yoshizawa Hitomi, Ikuta Erina (2011-2012) |
| Madi | Yellow-Green | 1st (American member) | Ikuta Erina (from 2012), Niigaki Risa |
| Aki | Tea | 1st | Iida Kaori, Iikubo Haruna (2011-2012), Kusumi Koharu (2005-2007) |
| Yuii | Light Blue | 1st | Tanaka Reina, Ogata Haruna, Kitagawa Rio |
| Maika | Sky Blue | 1st (Canadian member) | Kago Ai, Ichii Sayaka, Morito Chisaki |
| Miki | Light Pink | 2nd | Makino Maria (2015-2019), Yasuda Kei |
| Madi | Gold | 3rd (Netherlands member) | Goto Maki, Yokoyama Reina |