Cherry was a second generation member from the net idol group Platinum Happy.
She announced her graduation on the third anniversary livestream on December 16th, 2017 and graduated from the group on January 20th, 2018.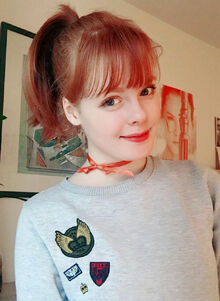 About Cherry
Edit
Name: Cherry
Image Color: Light red
Voice Range: High alto
Birthday: July 5
Interests: Fashion and beauty, singing, art, manga, cute animals
Strengths: Confidence, energy, personal style, voice
Favorite Music or Groups:
 Hello! Project idols, Cheeky Parade, NMB48, Girls' Generation, APink, Girl's Day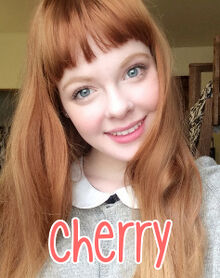 Personality, in a few words: Cute, energetic, and dorky
Catchphrase: "Pretty please with a cherry on top? Here comes Platinum Happy's Cherry to sweeten up your day!"
Song Participation
Edit
-Holiday Release "Happy Halloween" (Singing Team)
-Second Cover Single "Platinum Ambition"
No Girls, No Fun
Jump up ~ Chiisana Yuuki ~
-Holiday Release "A Gift for You!"
-Third Mini-Album "PuraLOVE"
Youseitachi no Symphony
Purappi Oshi
-Fourth Mini-Album "Hot Chance"
Seishun Inazuma
Silly Boy
deal
-Fifth Mini Album "Glitter & Shine"
Platinum Disco
Gomen ne Jewel
-Sixth Mini-Album "Shiroi Shining"
Chou Happy Song
Shiawase no Tochuu
-Holiday Release "Sweet Witches' Night ~Hachininme wa Daare~" (Singing Team)
Nicknamed Cheririi by the other members.
Considers her selfie-taking skills to be her talent.
Says she tends to be called mature for her age, and has a determined and perfectionistic attitude.
Participated in the "Chou Happy Song" pv.
Community content is available under
CC-BY-SA
unless otherwise noted.