Bonnie is a first generation member from net-idol group, Platinum Happy. She acts as Leader and Co-Producer
About Bonnie
Edit
Name: Bonnie
Image Color: Orange
Voice Range: Soprano
Birthday: August 1
Interests:
Idols, anime, singing, pets, writing, travel, sweets, cute things
Strengths:
Singing, lots of stamina, performing, being positive, being observant
Favorite Music or Groups: AKB48, JKT48, Up Up Girls (Kari), Hello! Project, Perfume, idol anime music, and electronic music
Personality, in a few words: Himedere squirrel?!
Catchphrase: "Bonjour! Bonsoir! Bonnie! Full of energy all day long, I'm Platinum Happy's leader. Nice to meet you~"
Song Participation
Edit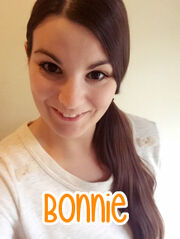 -First Single "Make It Platinum!":
-Holiday Release "Noel no Yoru"
-Holiday Release "Oshogatsu"
-First Mini-Album "Happy Hearts":
Yarakai Heart
Kuchiutsushi no Chocolate
-Second Mini-Album "Cherry Blossom Season":
Sakura Chirari
Koi wa Tokimeki Chuuihou
-Purasinging "Niji Iro no Kuma" (Solo)
-Original Single "Platinumで染めて!/Paint it Platinum!":
Platinum

で染めて!

Paint it Platinum
-Holiday Release "Happy Halloween" (Singing Team)
-Second Cover Single "Platinum Ambition"
Ambitious! Yashinteki de Ii Jan
Jump up ~ Chiisana Yuuki ~
-Holiday Release "A Gift for You!":
-Third Mini-Album "PuraLOVE"
Elegant Girl
Purappi Oshi
-Fourth Mini-Album "Hot Chance"
Seishun Inazuma
Silly Boy
Romantic Now
deal
-Fifth Mini-Album "Glitter & Shine"
-Sixth Mini-Album "Shiroi Shining"
Chou Happy Song
Because Happiness
-Holiday Release "Sweet Witches' Night ~Hachininme wa Daare~" (Singing Team)
Often called "Boss" by the other members.
Nicknamed "Bonchan" or "Bonbon."
She does the mixing for many of the group's releases and video editing for several videos.
Makes up the subunit "Cocoa Bonbon" along with Cora.
Her charm point is her "squirrel-like face". As such, she's often compared to a squirrel, and members have referenced her with squirrel drawings during live streams.
Is one of two members to have a different language in their catchphrase (the other is Tabitha).
Participated in the PV for "Chou Happy Song"
Has a YouTube channel called Sammy[1], but it is inactive.
Community content is available under
CC-BY-SA
unless otherwise noted.