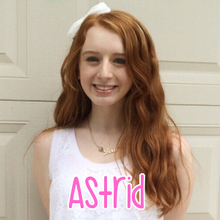 Astrid was a first generation member from a net-idol group, Platinum Happy.
She graduated from the group on October 16th 2016 for personal reasons.
About Astrid
Edit
Name: Astrid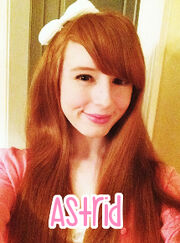 Image Color:
Light pink
Voice Range: Soprano
Birthday: March 1
Interests: Idols, dance, singing, learning Japanese, Disney, fashion
Strengths: Dance, performing on stage, flexibility, academics 
Favorite Music or Groups: Girls Generation, 48Group, Twice
Personality, in a few words: Very girly, hardworking, and somewhat shy 
Catchphrase: "Rid yourself of worries and become a fan of Astrid! I'm Platinum Happy's first generation member Astrid!" (2014)
"Pyon, pyon, wherever in the field you go, Asupyon! I'm Platinum Happy's first gen member Asuypon, otherwise known as Astrid!" (2015-2016)
Song Participation
Edit
-First Single "Make It Platinum!"
-Holiday Release "Noel no Yoru"
-Holiday Release "Oshogatsu"
-First Mini-Album "Happy Hearts"
Yarakai Heart
Friday's "Good Morning"
-Second Mini-Album "Cherry Blossom Season"
Sakura Chirari
Sakura Kiss
-First Original Single "Platinumで染めて!/Paint it Platinum!":
Platinum

で染めて!

Paint it Platinum!
-Holiday Release "Happy Halloween" (Dance Team)
-Second Cover Single "Platinum Ambition"
Ambitious! Yashinteki de Ii Jan
Jump up ~ Chiisana Yuuki ~
-Holiday Release "A Gift for You!":
-Third Mini-Album "PuraLOVE"
Nicknamed "Asupyon" by other Platinum Happy members due to her love of rabbits. The nickname was thought up by Calla. Previously, she had the nickname "Asunyan."
Announced her graduation from Platinum Happy in January 2015[1], but canceled it on February 14th 2015[2].
Made up the subunit "Sweet Sherbert" with Clover. The two were also the two youngest members of Platinum Happy before Clover's graduation.
She's particularly close with Maple, whom she refers to as an older sister.

In return, Mia refers to Astrid as an older sister.

After generation two's announcement, she started a segment in her blogs where she interviews a second gen member to promote them.
Edited the video for the dance cover of "Make It!" despite being unable to participate.
She was inspired to become an idol at the age of 8 by watching Kirarin Revolution
Considers being an idol as the thing that she's good at.
References
Edit
Community content is available under
CC-BY-SA
unless otherwise noted.