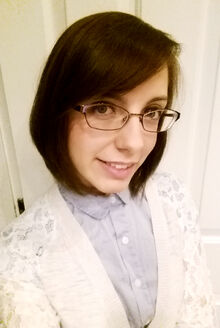 Alice is a first generation member from a net-idol group, Platinum Happy.
About Alice
Edit
Name: Alice
Image Color: Light blue
Voice Range: Alto
Birthday: April 4
Interests: Anime, cosplaying, costuming, theatre
Strengths:
Organization, timing, rhythm, sarcasm, moe voice impressions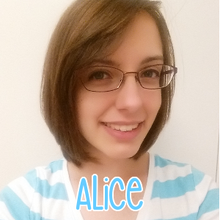 Favorite Music or Groups:
AKB48, Love Live! School Idol Project
Personality, in a few words: Sometimes shy but always sincere!
Catchphrase: "Let's make our very own Wonderland~! With a sincere heart and a shy smile, I'm Platinum Happy's Alice!"
Song Participation
Edit
-First Single "Make it Platinum!":
-Holiday Release
"Noel no Yoru"
-Holiday Release "Oshogatsu"
-First Mini-Album "Happy Hearts"
Yarakai Heart
Valentine Day Kiss
-Second Mini-Album "Cherry Blossom Season"
Sakura Chirari
Koi wa Tokimeki Chuuihou
-First Original Single "Platinumで染めて!/Paint it Platinum!":
Platinum

で染めて!

Paint it Platinum!
-Holiday Release "Happy Halloween" (Dance Team)
-Second Cover Single "Platinum Ambition"
Ambitious! Yashinteki de Ii Jan
Jump up ~ Chiisana Yuuki ~
-Holiday Release "A Gift for You!":
-PuraSinging "Kimi no Tonari de Odaritai" (solo)
-Third Mini-Album "PuraLOVE"
Youseitachi no Symphony
Purappi Oshi
-Fourth Mini-Album "Hot Chance"
Seishun Inazuma
Romantic Now
deal
-Fifth Mini-Album "Glitter & Shine"
Platinum Disco
Gomen ne Jewel
-Sixth Mini-Album "Shiroi Shining"
Chou Happy Song
Because Happiness
-Holiday Release "Sweet Witches' Night ~Hachininme wa Daare~" (Dance Team)
Nicknamed "Arisu" by the other members. Calla tends to call her "Ariririririsu."
Makes up the unit "Blueberry Kiss" along with Marin.
She is Bonnie's Platinum Happy oshimen.
Makes up the one-shot unit "Mintea Girls" along with Calla.
Did the video editing for the "Happy Halloween" video.
She loves anime and often discusses the series she is following in her blog entries. In particular, she is a fan of Shokugeki no Soma and the character Alice.
Frequently participates in dance covers done by the group, and is the only member to have done a solo dance cover (Realize!)
Participated in the "Chou Happiness" pv