Akaya is a first generation member and co-leader of Aikan.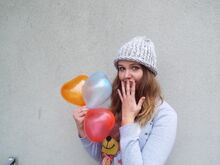 Information
Edit
Role: Co-Leader
Image Color: Grey
Birthday: June 4th
Hobbies: Singing, learning Japanese, dancing, youtube, idol research, complex harmonies, reading
Subunits: JK², Mimi, Dulcet
Message: "Hello! I am Akaya and one of our group's leaders. I sing on youtube, in the shower, in the car, on stage… Dancing is also common. If you ever need to gush over idols, I know far more female idol trivia than should be allowed. I have lots of love to give so よろしくね~"
Song Participation
Edit
最低で最高のParadiso (Saitei de Saikou no Paradiso)
Kamisama no Birthday
-In group cosplay videos, Akaya usually cosplays Makoto Kikuichi and Azusa Miura (Idolm@ster), Rin Hoshizora (Love Live!), and Dia Kurosawa (Love Live! Sunshine!!). Another idol cosplay she enjoys is Kaede Takagaki.