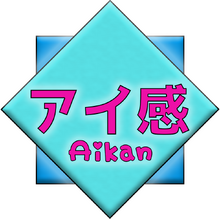 アイ感 (Aikan) is a US-based net idol group that releases original music as well as covering J-pop and K-pop songs and dances. They are centered in Utah, with three active members total. They also occasionally perform dances in cosplay.
The co-leaders made their debut December 1st, 2016. The full first generation debuted December 13th, 2016.
Aikan took a small hiatus with smaller individual and sub-unit releases until they returned with a trio original release on October 25th, 2018.
Members
[
]
Current
[
]
Graduated
[
]
Group Releases
[
]
[2016.12.01] Saitei de Saikou no Paradiso (最低で最高のParadiso)

Participating Members: JK² [Jazi (center), Akaya, K/C]

[2016.12.13] Kamisama no Birthday

Participating Members: Sky (center), Quinn, Mae, Akaya, Heather, Danielle, K/C, Kaitkat, Jazi

[2017.02.02] - [2017.02.14] Doki Doki I Love You!! [Series]

Participating Members: Akaya, Jazi, K/C, Sky, Heather
Videos: Chocolate Disco [K/C (center), Sky, Jazi], Nawatobi [Heather], おちゃめ機能 (Mischievous Function) [Akaya], Suki Kirai (Dance-Only) [Sky, Heather]

[2017.06.25] Exquisite

Participating Members: Dulcet [Akaya and Jazi]
Tracks: Exquisite, Mermaid Festa Vol. 2

[2018.04.27] Our Heart's Chemistry (Original)

Participating Members: Dulcet [Akaya and Jazi]
Tracks: Our Heart's Chemistry, The One I Loved

[2018.08.31] Summer Sun (Original)

Participating Members: Dulcet [Akaya and Jazi]

[2018.08.31] Make You Wanna Die (Original)

Participating Members: Sky (Center), Akaya, Jazi
Tracks: Make You Wanna Die, Pretty Face

[2018.12.24] Twinkle

Participating Members: Akaya (Center), Jazi, Sky

[2019.02.14] Heartbeat (Original)

Participating Members: Jazi (Center), Akaya, Sky
Tracks: Heartbeat, Icicle Breath
Subunits
[
]
Dulcet [Jazi and Akaya]
Pastel Roulette (パスルー) [Sky and Akaya]
Social Media
[
]