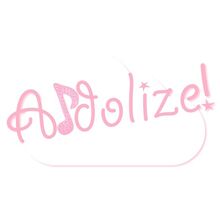 Aidolize! is an idol group based out in Machesney Park, Illinois. The current lineup consist of three members. They perform at conventions and perform a variety of dance covers from anime, JPop, and Vocaloid. The group stands for equality for all and accepts members from all walks of life.
The group's catchphrase is: "Let's Aidolize!"
Aidolize! first formed under the name AiUta back in 2013 consisting of now graduated member, Becky. At the time production of the group was quite slow and the group was scheduled to perform at 2015 Idol Matsuri. Unfortunately, Idol Matsuri was cancelled that year and as such their live was cancelled. Conflicts arose within the group between the two over leader position and which way to guide the group. Due to this AiUta was then disbanded and the group went under indefinite hiatus, without releasing anything.
Around early June, Tony had met Kat by a pure chance encounter due to a friend. The two instantly hit it off and found a common interest in the popular anime and real life idol group, Muse. It was also revealed that Kat wanted to be an idol due to Muse and Aqours, another similarity the two share. But Kat lacked the self confidence but thanks to encouragement from Tony, the two agreed to form their own idol group and aspire to live up to Muse and Aqours. The two agreed on the name Aidolize!, a name for a group that had been made by Tony back in January of 2016, but was never used. The group officially formed on June 23, 2016.
Originally, the group was scheduled to perform at NatsuCon and debut with Korekara no Someday. But due to Kat having to leave for her family's campground that same weekend and due to school registration the live was cancelled.
The group's theme song was picked by Kat and it's Aozora Jumping Heart by Aqours. It represents that the group's story is just starting and it won't end anytime soon. This song will be performed at their first live, whenever that will be.
| Name | Birthday | Join Date | Member Color | Notes |
| --- | --- | --- | --- | --- |
| Tony | October 12, 2001 | October 16th, 2013 (AiUta Era) | Mint Green | Leader, Manager, Founder. First member of AiUta Era. |
| Kat | January 24, 2001 | June 23, 2016 (Aidolize! Era) | Red | Sub-Leader, first member of the Aidolize Era. |
Graduated Members
Edit
| Name | Birthday | Join Date | Member Color | Notes |
| --- | --- | --- | --- | --- |
| Becky | March 13th, 2002 | October 16th, 2013 (AiUta Era) | Aqua | Graduated twice, final time in 2015. |
| Amber | N.A | January 25th, 2016 (AiUta Era) | Deep Red | Graduated in March. Last member of AiUta Era. |
| Alyssa | July 10, 2002 | September 22, 2016 | Blue | |
Releases
Edit
Pictures
Edit
Tony and Kat function usually as twins and often think the same thing and will often have the same opinion on something, even sharing the same taste in music and boys.
Tony has a habit of using Kat as a table stand due to their height difference. The former being 5'11 and the latter being 5'1
Both of them changed their member colors, Tony was once lime green and Kat was once purple.
Tony and Kat make the joke of being Christmas colors.
Community content is available under
CC-BY-SA
unless otherwise noted.